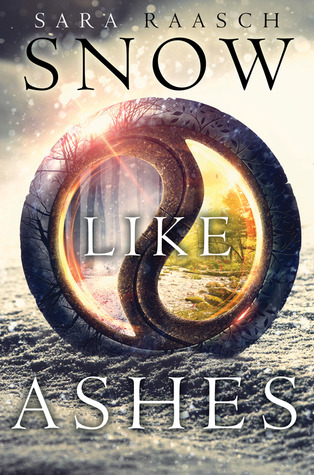 A heartbroken girl. A fierce warrior. A hero in the making.

Sixteen years ago the Kingdom of Winter was conquered and its citizens enslaved, leaving them without magic or a monarch. Now, the Winterians' only hope for freedom is the eight survivors who managed to escape, and who have been waiting for the opportunity to steal back Winter's magic and rebuild the kingdom ever since.

Orphaned as an infant during Winter's defeat, Meira has lived her whole life as a refugee, raised by the Winterians' general, Sir. Training to be a warrior—and desperately in love with her best friend, and future king, Mather — she would do anything to help her kingdom rise to power again.

So when scouts discover the location of the ancient locket that can restore Winter's magic, Meira decides to go after it herself. Finally, she's scaling towers, fighting enemy soldiers, and serving her kingdom just as she's always dreamed she would. But the mission doesn't go as planned, and Meira soon finds herself thrust into a world of evil magic and dangerous politics – and ultimately comes to realize that her destiny is not, never has been, her own.

Review:
''A living snowstorm,a vibrant white reminder that they haven't enslaved every Winterian.Some of us are still alive.Some of use are still free.''
Snow like Ashes wasn't a book that i planned to read right now,but after i've read the description i decided that i have to try and see how the story is.I saw on Goodreads that a lot of people gave this book good opinions and high ratings,but at some point i wasn't sure if it will be something i'll like..Yeah,well,i was wrong.And it wasn't the first time..Yikes.
When it comes to books with magic,i'll never ever again doubt the fact that it will be something brilliant,amazing and worth reading.
What i loved about this book was the fact that the four Seasons present,each of them giving this book a whole new perspective.It was absolutely amazing the way the author chose to write about them and how she gave every season powers.
But this book is manly about Winter..About a Kingdom defeated,but there was always hope that someday someone will show everyone that the legacy of the Winter's Kingdom is not dead.And that burden falls on the shoulders of a young boy..The burden of doing everything in his power to help rise his Kingdom back.To bring back what the Winterians deserve:their freedom,lifes and hope for something better.But nobody knows the truth about the true ruler of Winter..
The whole story is written from a young girl's point of view.A girl who wants to show everyone she could help,that she can fight and do everything everyone else can do..But at the same time ,she is the one who'll do everything in her power to destroy the evil and protect those who she loves.
"No matter what happens, no matter who turns on me, no matter what pompous swine thinks he has power over me, I am still me. I will always be me."
Meira amazed me in every chapter.I admit that at the beginning when i first started to read i thought that she was a little annoying,but step by step i started to understand her desire to do more ,to show everyone that she wasn't weak.It was fun and i admit that i was proud of her.She was fearless,fierce and determined,a little too stubborn .but too smart.I enjoyed reading the way she handled everything,even if at some time her action was a little too risky.But in the end every step she made it was worth it.
Reading about Meira's journey was fun,but she wasn't the only one in this story who caught my attention.There were a lot of characters who made me want to pump my fist in the air and cheer them like a crazy person..(Hmm,i shouldn't admit something like that..Ever.Ops.But it's true!).Characters who made me want to shake some sense in them at some point,but i admit that i got to the point when i started to understand why they acted like that or why they did some things i disliked.
So..Sir,Allyson,Dendera,Greer and Finn,those are a few characters that i won't write much about them.They fought for Winter,for their Kingdom ,but there were moments when i wished that i could understand them more..Well,that was until the moment when the big truth was revealed and i think in that moment i almost jumped up and down,because i knew it!Damn it,i knew it!
But i have my favorite characters.Characters i want to write about..
''When Mather looked at me,i never knew what emotions he was hiding between his seriousness,if he liked me or if he was trying to figure out if he did.But with Theron-it feels more purposeful.Like he's staring at me because he wants to,not because he's questioning himself.''
Mather-the one who was raised to believe he was the future King of Winter.I admit that i never knew what to think about him.Loyal,charming and a true fighter,Mather wasn't exactly like i expected him to be.A true Winterian,but i knew from the beginning that something was wrong.But that doesn't mean i didn't like him.There were moments when i thought that he will be on my top list of favorite characters,because he was always there helping Meira.Being her true friend,helping her when she needed him..He was amazing..
"So," I start as we pull to the left in the hall, "you're the king of Cordell's son. How's that?"
Theron chuckles. "Beneficial sometime, horrible others. You're beautiful – how's that?"
But..There comes Theron,the Cordellan Prince,who made me fall for his sweet smile and forget about Mather or anyone else.Funny,handsome and ,of course,fierce,Theron was exactly what this book needed in order for everything to transform into something incredible.Theron was exactly like Meira,trapped in a role he didn't want,but had to fulfill.But at least that didn't stop him from doing everything he could to help Meira.And that's what i loved most about him.
''That's how we all are,too hard for what we should be.We should be a family,no soldiers.But all that really connects us is stories ,and memories,of what should be.''
A lot of things happened in this book and it was a little crazy how the four Seasons were described.But the battle between Spring ,Winter and Cordell was perfect,mostly the way Meira showed everyone that Winter lived and that nobody can stop them.
The one character i hated the most??Angra and his desire to own Winter.He was a Mad King hungry for more power.
This book was full of surprises,ups and downs and badass characters.The beginning of something brilliant-the beginning of an incredible story and i hope that the next book will be better and full of more surprises.
You can find my review on Goodreads:
Snow Like Ashes
.